Let me tell you about symphoneo.
One month, two papers, three projects and two home games into the school year. That's how long it took for me to throw up my hands and hit rock bottom.
So far, this year is not what I expected it to be. Taking 13 credit hours was supposed to be easier, not more difficult. My classes were supposed to be constructive and critical, not draining and daunting. I knew that I was stepping into what Peabody College calls our "professional" year: I just didn't realize that role and responsibility was going to threaten my last true semester as a student, not a student teacher.
While walking this fine line between educator and educated, there are lessons learned and truths taught that began writing themselves on my heart in Buenos Aires and are still telling their story. Our very first day of class, our literature professor, Gaby, described the city as a broken mirror: the store window, the water in the street reflect a piece of you, but never the whole picture. The rhythms and rhymes of urban life show you who you are, but break you apart first. That's exactly how I felt as I walked through Buenos Aires: those streets shattered everything I knew about myself, but everywhere I looked, I caught sight of another piece of my self. I picked them up one by one and God began revealing deep things to my heart about where I've come from and where I'm going. And I wrapped those shards up carefully, stowed them in my carry-on and shared them on this blog, and I brought them home with me and took them back out. Lately, it's feeling like when all I want to do is press into the truth of who I am and bring that comfort in my own skin with me into my world at Vanderbilt, the pieces of who I am that I pick up grow jagged edges, leaving scratches on my hands. I know how important it is to me to find time to go deep into the Word, to get a good night's sleep, and to spend time in community with other believers, to invest in the time I spend with my friends and my family, and to sit down day after day and put words to paper. I know that the time I spend on these things is valuable. Crucial, even, to being the person God made me to be. What I don't know is why, when life picks up and schoolwork becomes the first priority, those things are the first to fall to the bottom of my to-do list – somewhere they don't belong in the first place. What I don't know is why it feels impossible to be the me that I felt like I found in another continent in the place that I call home.
Did you catch that?
How often do I feel driven by discord, like I am living out of a desperate mission to create harmony from notes that were never meant to be played together. As a musician, you would think that dissonance would set my hair on end and grind my teeth together. But instead, there is something in me that drives me towards discord because I think I can find the solution.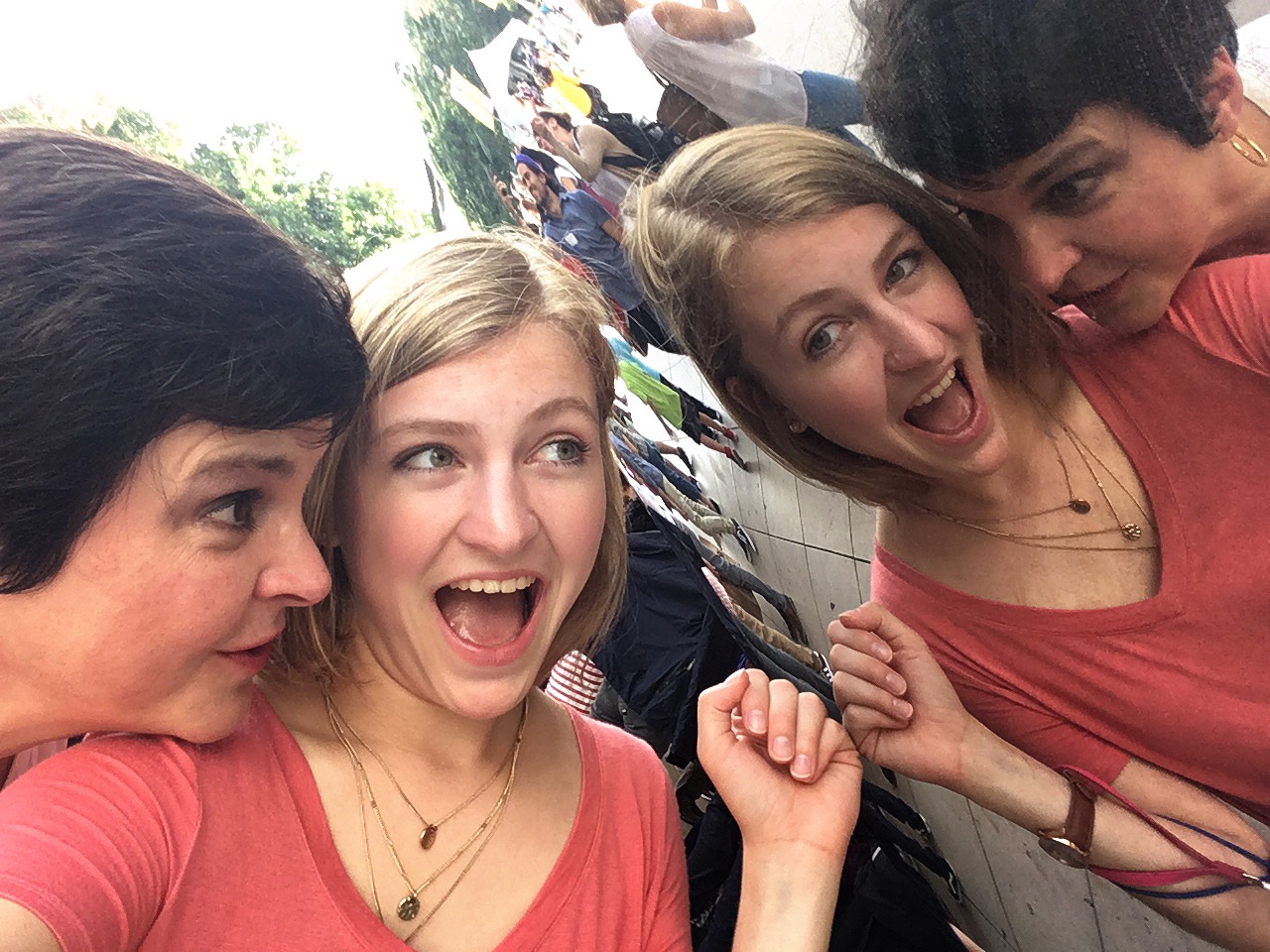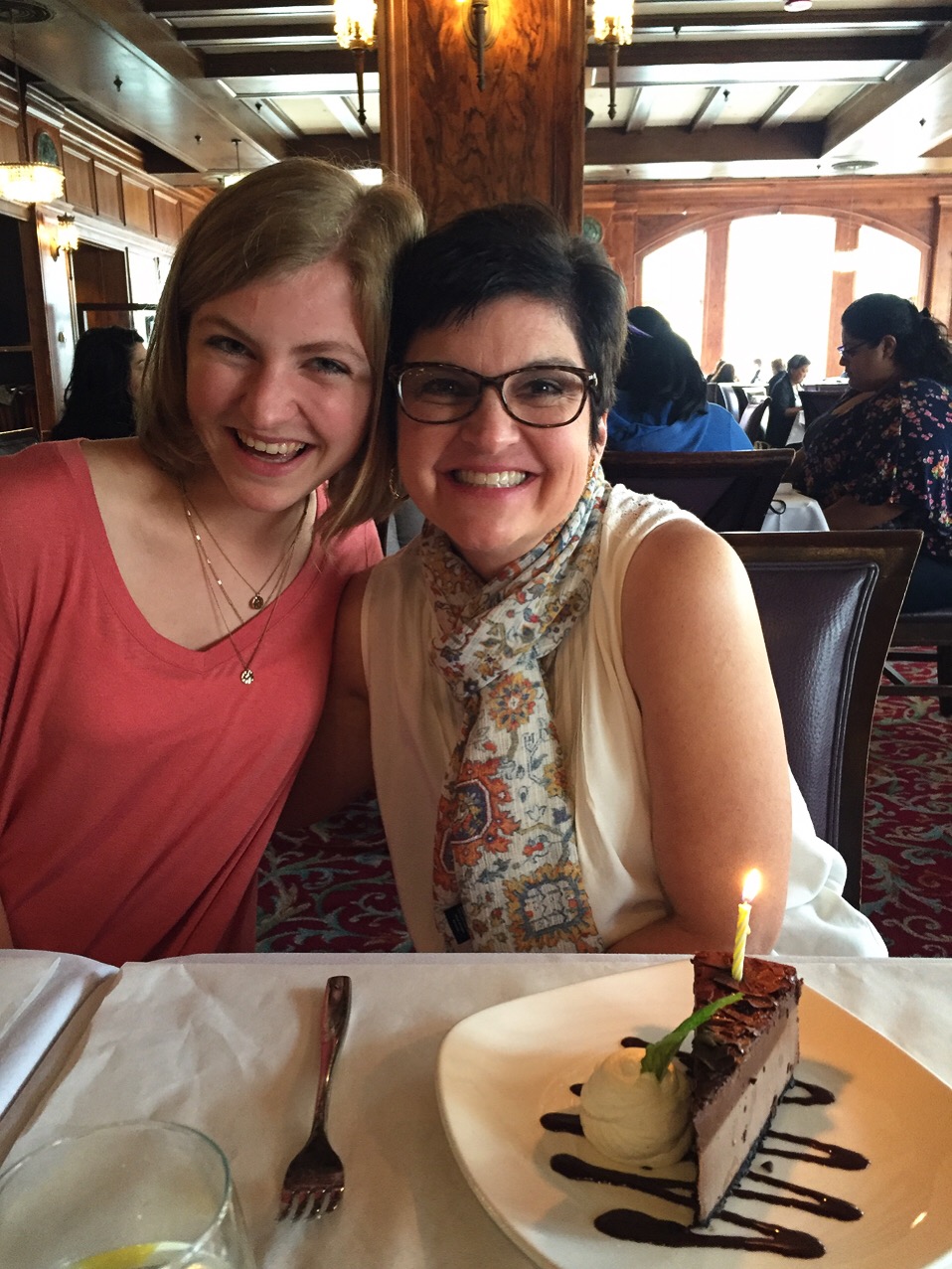 This past weekend, I had the chance to fly home for the weekend and get together with some of my favorite, favorite ladies – my mom, my three aunts, my basically-aunt, and my cousin. We all trekked up to Chicago and met up to hear Beth Moore, one of our favorite Christian writers, speak at Living Proof Live, her ministry simulcast event. I left that weekend feeling so filled – from the worship, from the fellowship, but especially from Beth's sessions and the musical metaphor she described to us.
In the New Testament, there is a Greek word frequently to talk about agreement in the body of believers. It means to be in accord, to be in unison. This word is symphoneo. Its English cognate is symphony. From the beginning of the conference, she made it clear that this was the fundamental point on which she would build the rest of her teaching: we all have a seat in a divine symphony. There are so many nuances to this metaphor that Beth fleshed out for us through Scripture, but I want to go deep with just this one with you in this space.
We must keep our eyes on our conductor.
When you think about a symphony, what comes to mind is a glorious setup of instruments and musicians, each with their own part to play, coming together to be a part of something bigger than themselves. There are solos and there are features, but at the height of a powerful chord, no one individual is more important than the others. There is one individual, however, who is most important. He has the most responsibility as well as the most stake in the success of his symphony. I can say this, because for two years, I stood in front of my high school marching band and played his same role. A symphony succeeds when every person is seated so that they can see the conductor.
But what if I can't see Him from where I am?
What if the deadlines and disruptions are piled high around me? What if my obligations and organizations are tugging at me from all directions? If I crane my neck, will I see him? Will I catch a glimpse as these commitments whirl me in dizzying circles?
These are the questions that come to mind for me. I am so, so quick to blame a lack of control over my circumstances, context and conditions for my failure, my fear, and my flailing. This is the definition of discord, and you would think I would run – but instead, in response, I fixate. I do everything in my power to acquire a control that I was never meant to have. And in doing so, I take my eyes off of my conductor. As Beth put it, my gaze determines that the very thing I did not want to have control now does. The thing that is in the way of me and my conductor has become my conductor.
For me, it feels like this is what school does. It sucks my time and my energy dry – I am convinced – because my professors are unfair, because I had another commitment, or because my schedule was busy. At the end of the day, this breaks down to reveal a failure on my part to maintain good control – of my schedule, of my commitments, and of my life. Control not only assumes that I have power to change my circumstance, it implies responsibility. So I make my class work more of a priority, frightened by the possibility of failure – because failure now represents so much more than a grade. It has become the determination of my worth – how well my instrument is playing, if you'll indulge the metaphor. I give my work priority above my needs, my community, and my walk with God – and in doing so, I give up those pieces of truth I brought home with me from Argentina and settle for letting half-truths and lies tell me who I am. I forget that who I am is who God is making me to be. I give the very thing I never wanted to have power over me complete control of the tempo, the rhythm, and the melody of my life.
God wants to be our conductor because He has so much more in store for us than this cycle of control. The narrative, the song of our lives is not about us. He has already given me value, worth and purpose, inside and outside of my success in school, by calling me to a seat in His symphony, to join in the song He is writing across all time and space – to the praise of His glory. There is this whole movement taking place, for which the world was created – to the praise of His glory. And until we take our seat, we have no idea.
So park your rear in chair, pick up what you have, and sit up straight. When your gaze is on Him, Conductor of our divine symphony, you will never have to worry about being in the wrong measure, missing a beat, or what to play next. Something big is in store for us on this stage – I can feel it in my bones. Dive into the calling of who He is calling you to be, as we move into the next movement of the divine symphony.